Last month, it was 8 years ago that the pilot of the Terra Nova series aired. The world was given an entire season of frontier life in a universe where dinosaurs still rule the earth. However, after one season FOX decided not to renew the series. Afterwards, FOX refused to sell to show to Netflix[1] and Sky 1.[2]
Now we are in 2019. Not all traces of Terra Nova have been wiped from the face of the earth. The outdoor set of the series was built at Smith Rd, Bonogin in Australia. All that remains are the streets and the circular concrete plaza in front of the gates (red spot in the picture).[3] Not much, but enough for a fan visit.
The cast of the series is all 8 years older and active. Stephen Lang will star in the upcoming Avatar II. Jason O'Mara plays Batman in Batman: Hush. Naomi Scott portrays Princess Jasmine in the new Aladdin movie. Christine Adams appears in the Black Lightning series. Allison Miller appears in the series A Million Little Things. Simone Kessell was the lead actress in the series The Crossing.
Ever since the show aired, Terra Nova could be streamed on Netflix. This certainly helped to attract new fans for the show. Every year I watched a few episodes of Terra Nova on Netflix, even though I own the DVD. Hoping this would increase the number of viewers for the show. However, in March, this year, the show was removed from Netflix.[4] This is a shame because Netflix is one of the most used viewing platforms. The show can still be streamed on Amazon Prime and other platforms.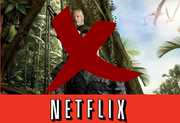 On March 20 2019, Disney aquired most of 21st Century Fox assets. This means that Terra Nova is now owned by Disney. This could be the reason it was removed from Netflix. Maybe, after Netflix makes a new deal with Disney, the show will be back. Maybe the show can be streamed on Disney's own upcoming streaming platform Disney+.
Disney is now the owner of Terra Nova (as far as we know). Maybe, just maybe, Disney can be persuaded to give the series a second chance or to sell it to another network who want to try.
Sources
Community content is available under
CC-BY-SA
unless otherwise noted.