Tree Darters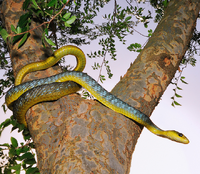 Scientific name
Reptilia chordata

Tree Darters, Reptilia chordata, are a kind of prehistoric tree snake that inhabits the region around Terra Nova. They live in nests up in trees. They show agressive behavior when they feel their nests or themselves are threatened. They fall onto their prey by the dozens and attack.
In the episode "Instinct" three soldiers, including Lieutenant Okuda and soldier Gillers, were killed in the jungle near Mark 24 Alfa. From the marks it was clear that they were attacked from above. Therefore, the Tree Darters were a possible suspect of what killed the soldiers. However, Nathaniel Taylor says he has never seen the Tree Darters killing three armed soldiers.
Jim Shannon discovered claws in the wounds and asked if these snakes had claws. Dr. Malcolm Wallace pointed out that Reptilia chordata has no claws. Therefore, the Tree Darters were not responsible for the killing.
Community content is available under
CC-BY-SA
unless otherwise noted.