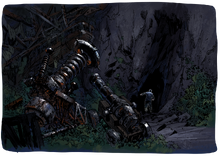 The Badlands are an area north of the colony first introduced in the first season finale. The figurehead of an old wooden ship is found here by the Phoenix Group. It is clear that there is another way of time travel found in the Badlands, as the ship's figurehead dates to the 1700's, and Jim remarks that he wonders why the Phoenix Group moved there after they realized they were cut off from the future.
Badlands are a region commonly found on 20th century Earth, especially in the western United States, Canada, and Argentina. They are characterized by the existence of massive colorful rock formations and minimal vegetation. They tend to be very difficult to traverse on foot.
In a interview on September 24, 2012, Brannon Braga revealed that in the cancelled Season 2 the Phoenix Group would encounter "highly intelligent dinosaurs" in the Badlands and would be massacred by those creatures.
Community content is available under
CC-BY-SA
unless otherwise noted.