Shelley Deborah Conn (born 1976) is an English actress.
Early Life
Edit
Conn was born in Barnet, Greater London of Anglo-Indian descent. The great niece of actress Merle Oberon (Oberon's brother was Conn's grandfather), Conn trained in acting at Bretton Hall. She was a student at Cranbourne School, Basingstoke Hampshire, renamed Cranbourne Business and Enterprise College in 2004.
Conn lives in London and dates fellow Mersey Beat and Casualty actor Jonathan Kerrigan.
Conn ran in the 2006 London Marathon.
After drama school, Conn had a series of bit-parts in various British films, before coming to prominence in Series Five of the popular BBC One series Down to Earth. In 2001 she picked up the role of PC Miriam Da Silva in BBC1's Mersey Beat and an irregularly recurring role in Casualty - both of which starred her current boyfriend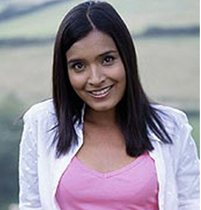 , Jonathan Kerrigan.
In 2002, Conn made her West End theatre stage debut in three plays in December 2002, after transferring from Stratford-upon-Avon in the Royal Shakespeare Company's Jacobean Season at the Gielgud Theatre - The Island Princess, Eastward Ho! and The Roman Actor.
Conn has now developed her roles between all three media (television, film and theatre), with a series of leading roles in various small budget European as well as British films; BBC character dramas such as The Innocence Project; and occasional returns to the RSC.
Conn starred as Ashika Chandiramani in the BBC series Party Animals.
In early 2008, Conn starred as Miranda Hill in The Palace, as Jessica in Mistresses and as Neela Sahjani in Trial & Retribution.
In 2009 she appeared as Claire in Dead Set.
She was chosen by Steven Spielberg to be one of the leads in his new $150 million TV series Terra Nova, which debuted on Septmeber 26, 2011.
Community content is available under
CC-BY-SA
unless otherwise noted.