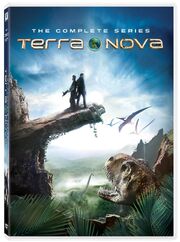 The DVD set of Terra Nova's first season was released on September 24, 2012. It was a 4 disc boxset with extra features. A steelbox version of the box set was also released.
The box sets also contained a flyer about the motion comic that fans could create. The 16-digit code enabled the buyer to download the files of this motion comic.
In an interview with Digital Spy Stephen Lang said: "the DVD was announced as 'The Complete Series' and I had to kind of laugh at that. I mean there's an irony because okay, it's all that there is, but to me the show remains incomplete."[1]
Promotion material also mentioned a release on blu-ray, but that release never came along.
References
Edit
↑ Jeffery, M. (2012, September 24). Stephen Lang talks 'Terra Nova': "We were going in a darker direction". Retrieved from http://www.digitalspy.com/tv/terra-nova/interviews/a407200/stephen-lang-talks-terra-nova-we-were-going-in-a-darker-direction/