We're Getting Mutants in the MCU - The Loop
Play Sound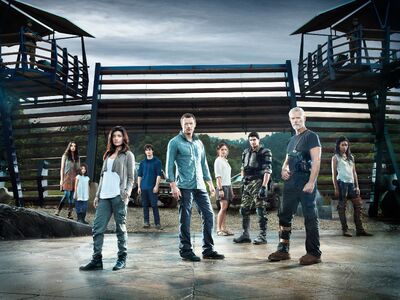 Season 1 of Terra Nova began airing on Fox on Monday, September 26, 2011 and ending on December 19, 2011. Terra Nova centers around a group of characters who travel 85 million years into the past to make a new civilization, as the Earth in 2149 is overpopulated and contaminated.
The first season of Terra Nova was picked up for an initial order of thirteen episodes, instead of the contracted twenty-two, given that production costs were highly expensive.[1]
Synopsis
Terra Nova follows an ordinary family on an incredible journey back in time to prehistoric Earth as a small part of a daring experiment to save the human race. In the year 2149, the world is dying. The planet is overdeveloped and overcrowded, with the majority of plant and animal life extinct. The future of mankind is in jeopardy, and its only hope for survival is in the distant past.
When scientists unexpectedly discovered a fracture in time that made it possible to construct a portal into primeval history, the bold notion was born to resettle humanity in the past – a second chance to rebuild civilization and get it right this time.
The series centers on the Shannon family as they join the Tenth Pilgrimage of settlers to Terra Nova, the first colony established in this beautiful yet foreboding land. JIM SHANNON (Jason O'Mara), a devoted father with a checkered past, guides his family through this new world of limitless beauty, mystery and terror. Jim's wife, ELISABETH (Shelley Conn), is a trauma surgeon and the newest addition to Terra Nova's medical team. JOSH (Landon Liboiron) is their 17-year-old son who is torn to leave life as he knows it behind; upon arriving at the settlement, he finds himself instantly drawn to the beautiful and rule-breaking SKYE (Allison Miller). MADDY (Naomi Scott), Josh's endearingly awkward 15-year-old sister, hopes Terra Nova will give her a chance to reinvent herself. Although Elisabeth's medical training secured the family a spot on the pilgrimage, a secret involving their five-year-old daughter, ZOE (Alana Mansour), soon endangers their place in this utopia.
Upon the Shannons' arrival, they are introduced to COMMANDER NATHANIEL TAYLOR (Stephen Lang), the charismatic and heroic first pioneer and leader of the settlement. Taylor warns the travelers that while Terra Nova is a place of new opportunities and fresh beginnings, all is not as idyllic as it initially appears. Along with blue skies, towering waterfalls and lush vegetation, the surrounding terrain is teeming with danger – and not just of the man-eating dinosaur variety. There is also a splinter colony of renegades led by the battle-hardened MIRA (Christine Adams), who is vehemently opposed to Taylor and his leadership.
Even more threatening than what lies outside the protective walls of the colony is the chilling possibility that something sinister is happening inside Terra Nova. The Shannons will come to suspect that not everyone on this mission has the same idea of how to best save mankind; in fact, there may be forces intent on destroying this new world before it even begins.[2]
Main Cast
Episodes
#
Image
Title
Airdate
Viewers (millions)
01
"Genesis: Part 1"
September 26, 2011
9.35
The Shannon family join the tenth pilgrimage of settlers to Terra Nova, the first colony of humans in this second chance for civilization. Jim Shannon, a devoted father with a checkered past, guides his family – wife Elisabeth and children Josh, Maddy and Zoe – through this new land of limitless beauty, mystery and terror. Josh meets a girl named Skye, and her friends and they sneak away from the Terra Nova compound to explore (OTG).
02
"Genesis: Part 2"
September 26, 2011
9.35
A captured Sixer escapes, causing Taylor to assign Jim to his security team. Josh and his new friends are attacked by Slashers but the security team comes to their group's rescue.
03
"Instinct"
October 3, 2011
8.73
A group of Terra Nova soldiers are killed by an unknown creature. Taylor wants Jim to find out who is giving information to Mira. Elisabeth discovers her ex-boyfriend from medical school is at Terra Nova, Malcolm Wallace. Jim and Josh are attacked by flying creatures.
04
"What Remains"
October 10, 2011
7.00
When Elisabeth, Jim, Malcolm and Taylor investigate radio silence at a nearby scientific outpost, they discover an outbreak of a mysterious virus causing memory loss, paranoia and eventually death. The group must work together to find a cure before they lose their sanity and all of Terra Nova is infected.
05
"The Runaway"
October 17, 2011
8.31
When an orphaned Sixer girl comes to Terra Nova seeking asylum, Jim and Taylor are at odds if they can trust her; Mira plots to reclaim a valued possession; Taylor begins to suspect there is a traitor in his midst and Reynolds admits his feelings for Maddy.
06
"Bylaw"
October 31, 2011
6.59
The colony is a victim of its first murder, and Jim and Taylor must find the perpetrator. In addition, Skye agrees to help Josh find a way to reunite with Kara, his girlfriend of 2149, while Zoe is mesmerized by an Ankylosaurus that hatches after Elisabeth performs surgery while the animal is still in its shell.
07
"Nightfall"
November 7, 2011
7.75
A meteorite crashes all the technology and wreaks havoc in the colony. Meanwhile, Maddy and Reynolds are trapped in the jungle. Back to Terra Nova, Elisabeth and Skye must work together to save Hunter's life, Taylor tries to stop Mira and the Sixers invaders, and a mysterious man is present.
08
"Proof"
November 14, 2011
7.01
Maddy begins interning for the greatest scientist of the colony, Ken Horton, and her life is endangered when she discovers a terrible secret. Meanwhile, Josh makes a deal with the devil in order to consolidate his plan to bring his girlfriend from the future to Terra Nova.
09
"Vs."
November 21, 2011
6.50
As Taylor searches for the "Sixer" mole in Terra Nova, Jim discovers an old murder and Taylor is the prime suspect.
10
"Now You See Me"
November 28, 2011
7.19
Taylor and Mira square-off in the jungle where he learns more about her plans and about his son. But then they both face a pair of slashers they must conquer together. Meanwhile, the "Sixer" mole scrambles to cover her tracks as Terra Nova goes on lockdown and Jim closes in. Also, Zoe faces a difficult decision and releases the Ankylosaur for which she has been caring.
11
"Within"
December 12, 2011
6.88
Lucas solves the problem of traveling both ways through the portal. Taylor learns that Skye is the Sixers' mole. Tim Curran redeems himself.
12
"Occupation"
December 19, 2011
7.24
The Eleventh Pilgrimage begins to arrive in Terra Nova and the mysterious Phoenix Group from 2149 arrives to facilitate the pillage of the past with the help of Lucas and Mira.
13
"Resistance"
December 19, 2011
7.24

The Shannon family escapes from the colony. A colonist makes the ultimate sacrifice and a decision is made that will change life in Terra Nova forever. Jim and Taylor team up in a last stand against the Phoenix Group.
References