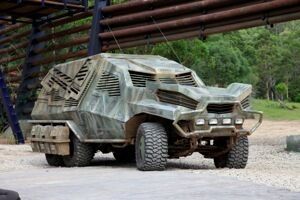 The Rhino Transport is a vehicle used for the mobilization of the residents of Terra Nova for expeditions, pursuits and searches.
Variants
Standard Rhino
Used by Terra Novans and Sixers, the Standard Rhino is enclosed, unlike the rovers, and can carry several occupants. It has an opening hatch on the top where guns, or other equipment, can be placed and a rear compartment that can be accessed by a large door on the back.
The Terra Nova transports are much more well maintained while the Sixer transports appear more camouflaged and poorly maintained having pieces hastily placed over holes. They are also easily able to be pulled open by Slashers. The Sixers may booby-trap their transports so as to prevent hot wiring. 
Flatbed Rhino
The Rhino can be modified to carry large round cargo containers.
Heavy Rhino
The Phoenix group used at least one heavily armored Rhino during the occupation of Terra Nova. It had more armor all-around, but especially at the front.
Gallery
Notes