Hope Plaza used a lottery to select new members for the Pilgrimages to Terra Nova. The number of people selected for each Pilgrimage increased over time[1] to over 100 people at the Tenth Pilgrimage.
It is not shown on screen how application to the lottery worked. However, the show's website contained a portal to apply to the Eleventh Pilgrimage. The winners and their families could join the Pilgrimage. However, anyone found to have gotten married for the sole purpose of transitioning to Terra Nova on a lottery ticket would be prosecuted.[2]
Terra Nova Evaluation Test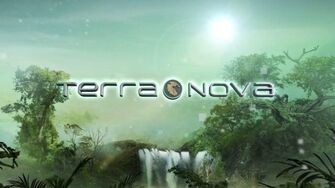 The website liveterranova.com contained a portal where fans could apply for the Eleventh Pilgrimage. The window contained links to the pictures and news feeds from the countdown to Terra Nova. It showed that the application for the Tenth Pilgrimage was closed. In the center of the screen was the button "Will You Be Chosen? Enter The Lottery".
If you pushed the middle button, the Terra Nova Evaluation Test (TNET) started. The fans would log in with their Facebook ID and then submitted to a "retinal scan" sequence. Once the participant's identity is verified, he/she would be asked to select six Facebook friends as potential team members for the next pilgrimage.[4]
The first part was an individual psychological evaluation where fans were tested on mental and emotional acumen. It consisted of a series of multiple-choice questions/exercises to test whether the applicant was best suited to be a researcher, farmer or security guard. Because "a family is four," three Facebook friends were eliminated after this first exercise.[4]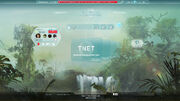 Subsequent weekly assessments, beginning September 5, would test endurance, recall and dexterity, each of which could result in the elimination of an additional friend from the lottery.[4] The four games mix gameplay mechanics inspired by titles like GeoWars, Finger Twister and an augmented reality version of the Simon memory game.[5]
Gallery
Terra Nova Project
2149 news
Enter evaluation
Psychological evaluation
Endurance, recall and dexterity evaluation
Production and development
The website LiveTerraNova.com was created by multiple agencies. The LA-based ad agency Omelet crafted the strategy and look and feel of the site. Motion designer Nick Couts did the 2d/3d animation and build the logo.[3] Animax produced the front and backend engineering work to make the experience come to life.[5]
References