Gillers
Actor

Mikhael Wilder

Seen In
"Instinct"
Name
Gillers
Status
Deceased
Job
Terra Nova Security
Private Gillers (also referred to as "Gil") was a member of Terra Nova's security team. He was killed by a group of pterosaurs in the episode "Instinct."
Appearance
Gillers was 6′ 1″ (1.85 m) tall, thin, white male. He had short, dark hair and hazel eyes. During his only appearance on the show, he wore a military uniform with a cap (possibly because it was raining heavily).
Biography
In the fall of 2149, Private Gillers (along with Lieutenant Okuda and one other soldier) was sent to bring supplies to Outpost 3. While driving a rover at night, he chatted with Okuda, telling him that he had been given an orange slab of meat at the mess hall, which he found strange. At Marker 24 Alpha, he hit an undisclosed object, causing a flat tire. While he was preparing to fix the tire, he heard a sound he could not identify coming from above. The three soldiers were then attacked and killed by Malcolmus pterosauria. Their bodies were discovered by Commander Taylor and his men the following day. They were buried the next morning.
Notes and Trivia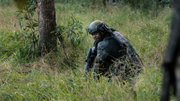 The scene where Gillers was found dead was filmed as though his body was hidden behind tall grass (see the image on the right). It was filmed that way because

Mikhael Wilder

was not present during the shooting.
Gillers was portrayed by Mikhael Wilder, who also portrayed a soldier named Bracco in "Genesis: Part 2." Unless the two of them were meant to be identical twins with different last names, this is a mistake.
List of Appearances
Media
Images