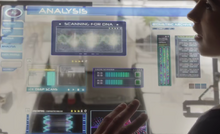 The DNA sampler is a device found at Terra Nova's infirmary and research lab that analyses and compares DNA samples.
When Maddy Shannon suspects that someone is impersonating Dr. Ken Horton, she gets the "real" Horton's DNA from a saliva residue on the envelope of a letter he sent years ago that she still had, and compares it with saliva on a mug. Malcolm catches Maddy using the equipment when she doesn't have authorization to do so, but when she tells him what she is doing, he enthusiastically tries to help her along with her testing, hoping to show that Horton is a fraud. But the DNA checks out OK in the system. ("Proof")
Community content is available under
CC-BY-SA
unless otherwise noted.