Before Season 1 of Terra Nova was released, the Countdown to Terra Nova app revealed a teaser video, poster or faux news article every day until the premiere. The app was created by the Cargo Collective under the supervision of Anna McClure.[1]
The content was later deleted. The videos were not released on DVD.
Countdown App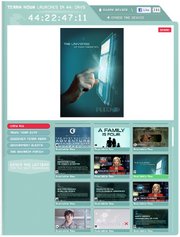 The Countdown app was available on Facebook and the website assets.fox.com/shows/terranova/. The top of the widget had a counter that informed the viewer how many days:hours:minutes:seconds were left before the show's premiere. The top also had a few like buttons.
Starting from July 23[2], the app revealed a newscast or advertisement from 2149, until the show premiered on September 26, 2011. Among the countdown videos were psychologic evaluation videos with all members of the Shannon family, apart from Zoe.
Thumbnails of all content were listed in a gallery below a larger screen that showed the latest or selected element. The elements were grouped into the categories:
News: Year 2149
Discover Terra Nova
Government Alerts
The Shannon Family
There was also an "Enter The Lottery" button that linked to the Live Terra Nova website.
Content
July 23
July 24
July 25
July 26
July 27
July 28
July 29
July 30
July 31
August 1
August 2
August 3
August 4
August 5
August 6
August 7
August 8
August 9
August 10
August 11
August 12
August 13
August 14
August 16
August 17
August 18
August 19
August 20
August 21
August 22
August 23
August 24
August 25
August 26
August 27
August 28
August 30
August 31
September 1
September 2
September 3
September 4
September 5
September 6
September 7
September 8
September 9
September 10
September 11
September 13
September 14
September 17
September 18
September 19
September 20
September 21
September 22
September 23
September 24
September 25
Posters
Psychiatric Evaluation
Gallery
References