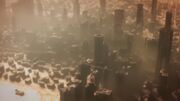 Chicago is a major city in the United States of America.
History
By 2147, Chicago had changed dramatically from the 21st century, although there are still several recognizable landmarks in the 22nd century. These include the Willis Tower, the Two Prudential Plaza, multiple elevated train lines, the Dwight D. Eisenhower expressway, Northwestern University, and the Northeastern Illinois Commuter Railroad.
The city has a maximum security prison named Golad. Domes are on the outskirts of the city.
Notes
The city is home to the FERMI Particle Accelerator and the

Time Portal

at

Hope Plaza

.

The Shannon family lived in this city. Jim Shannon worked as a police detective in the Narcotics Divison for the Chicago PD until 2147, when he was arrested for assaulting Population Control officers after they found out he had violated the population law.
Zoe Shannon, the Shannon's illegal third child, was born in the rural Cooke County, near Chicago.
Behind the scenes: Most of Chicago was CGI, and Brisbane had to stood in for Chicago 150 years from present-day 2011.
Gallery