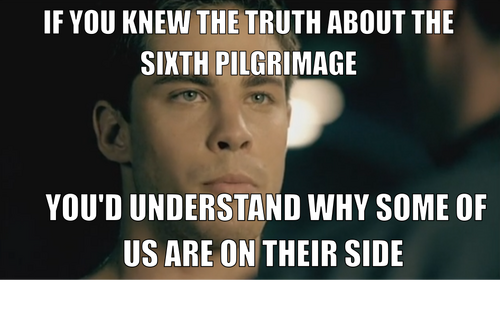 From Thread:10730
Quote:
Hello everyone, I found few deleted scenes from Terra Nova, and one of them looks like it was very important, when Jim and Mark are talking (time - 7:20). Maybe it was deleted because it was supposed to be used in different story plot, but after all I would be glad to know more about it. I am not native English-speaker so I can not clearly understand everything, when they are talking, only a little bit. Would someone please write me here what was Mark with Jim talking about? It would be really useful for me. Link to video is here: https://vimeo.com/51228105
Fanycharmed wrote:
In an early concept for the show from 2009, Mark was supposed to be a villain. In the 2009 version, Commander Taylor was the show's main antagonist, and Mark (his name was actually Robbie in the 2009 script) was supposed to be Taylor's spy in a resistance movement against Taylor.
In the version from 2010 (that's where the deleted scene you linked to is from), Mark was still written as a traitor. This time, however, it seems he was pretending to be on Taylor's side while actually working against Taylor, not the other way around. I'm not entirely sure if Mark was supposed to be a villain (though he was definitely shady). The fact that Mark said some people were on the Sixers' side because they knew the truth, that's making me think that maybe the writers were planning on revealing later on that Taylor was the big bad of the story and the Sixers had been the good guys all along. Or maybe Mark was just meant to be evil and delusional, I'm not sure. As far as I know, the creators of the show didn't reveal how they were planning on resolving this storyline.
In the final version of the show, the one that was made and aired in 2011, this plotline where a bunch of people sympathized with the Sixers because of "the truth" was scrapped. Taylor was portrayed as the good guy, the Sixers as the bad guys, and as a result the Sixers only had two associates in the colony, Boylan and Skye. In this final version, the writers decided not to make Mark a traitor after all. The scene you linked to was deleted, and the character's nature was changed from shady to adorkable (probably to make him a better match for Maddy).
Transcript of the deleted scene:
Mark: Excuse me, Mr. Shannon? I'm sorry to interrupt. Commander Taylor wants to see you.
*Jim and Mark walk next to the fence*
Jim: Hey, uh, I must have got turned around. I thought it was that way.
Mark: You took a big chance smuggling your daughter here. What the hell were you thinking?
Jim: I'm not sure that's any of your business.
Mark: It wasn't part of the plan. You made a deal, Shannon.
Jim: They said they could get me out of Golad and into Hope Plaza. And no, I didn't mention Zoe 'cause I didn't want to push my luck. When you're in a jail cell, you don't exactly have a lot of leverage.
Mark: Water under the bridge. You made it through, so now it's time for you to hold up your end of the bargain.
Jim: Which is what? No one ever gave me a straight answer, just that I'd be contacted by someone on the other side.
Mark: You will be told what you need to know when you need to know it.
Jim: You're with Mira?
Mark: Look, if you knew the truth about the sixth pilgrimage, you'd understand why some of us are on their side.
*Mark starts to leave*
Jim: Wait. Who are they? And why did they come here?
Mark: It's not for me to tell.
*Mark starts to leave again, Jim grabs him*
Jim: I want answers, otherwise… I'm out.
Mark: Mmm-mmm. There's no out.
*Jim pushes Mark away*
Mark: Enjoy being back with your family.
*Mark starts to leave for the final time, keeps walking even when Jim speaks to him*
Jim: Hey. Why me? Why go to all the trouble of bringing me here? Why me?